A. Sports facilities available on the campus:
Indoor Game Facility
The multi-purpose facility room accommodates Carom Boards, Table tennis and chess etc.
Indoor Badminton Court
The facility is on the ground floor with an approximate area of about 976.sq.mt. The mat courts near the open ground are used for Volleyball, Handball and Basketball. The area also has a climbing wall facility for practice.
Shooting Range
PiCA takes pride in its exceptional 6-lane Olympic-level rifle shooting range situated on campus. The campus has a remarkable track record, with its students representing MES Pillai's new Panvel campus in prestigious events like the 2016 Olympics. Moreover, they have achieved remarkable success, securing medals in various competitions such as the Commonwealth Games, as well as excelling in numerous national and international contests.
Multipurpose Sport Ground
The campus features a versatile synthetic floor multi-purpose sports ground, catering to various games like basketball, football, tennis, and volleyball.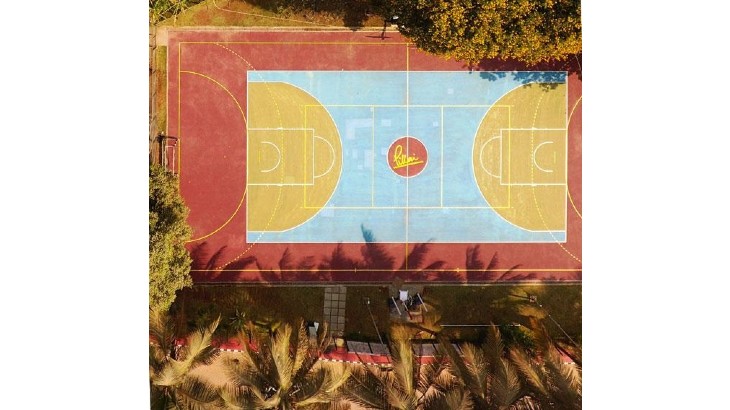 Playground
PiCA also has 3.5 acres of regular playground for cricket, football, Kabaddi, Kho-Kho and other athletic events. The ground is also used to host various sports leagues and inter-college sports festivals.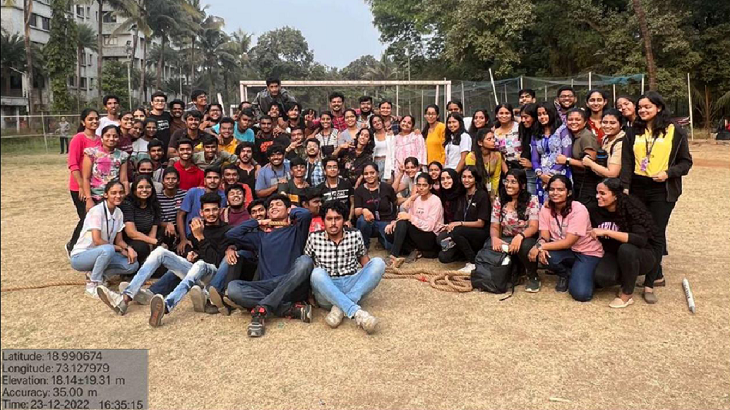 Gymnasium
The well-equipped gym is part of the campus, and students and staff can use it at their convenience in the morning or evening time. The gym is equipped with the latest gym equipment. The area of the gym is approximately 250 sq. mts. It has changing room and toilet facility.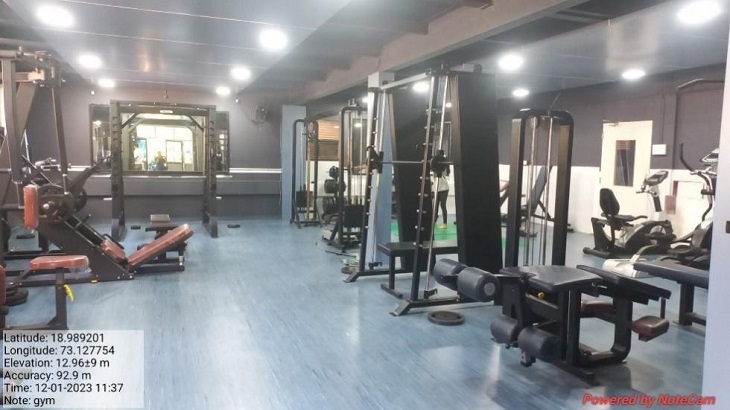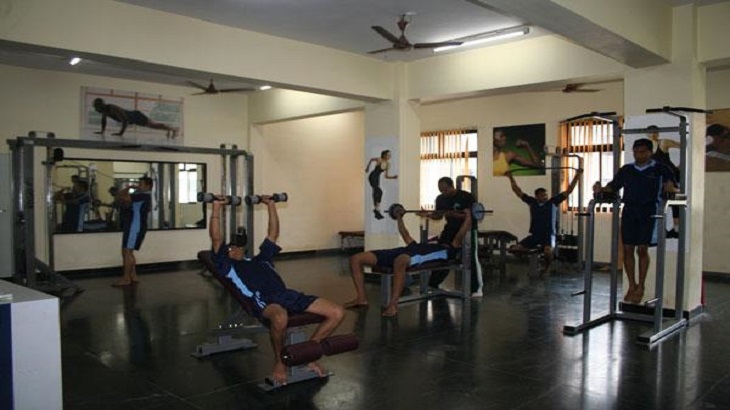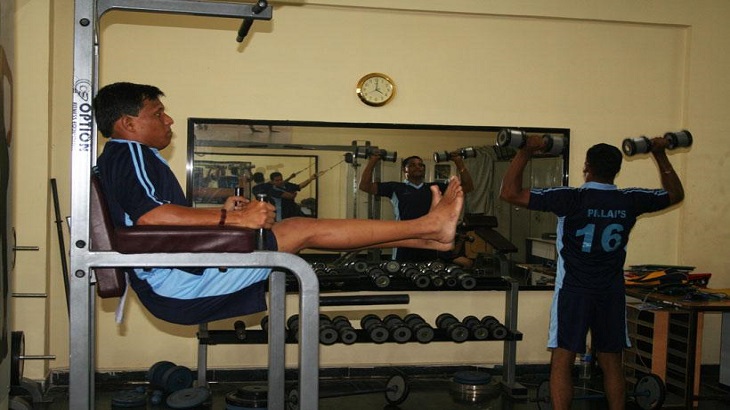 B. Cultural Facilities
While games, sports and athletics directly contribute to the physical development of students, other co-curricular activities such as cultural events also indirectly contribute to it. These activities provide a useful channel for the growth and development of student's mind and body. Student Council of PiCA very actively conducts cultural events throughout the year.
Event like Traditional Day is always cherished by Pica. Students wear traditional outfits to depict different cultures of India. Faculty also actively participate and appreciate these events.
Event like Pica's Got Talent encourages students to expose their talents by participating in activities like classical dancing, semi-classical dancing, singing, stand-up comedy and a one-act play. We have conducted theatre workshops to enhance the acting skills of students. Artists related to theatre performances performing in commercial and experimental theatre were invited to guide the students.
Students of PiCA participate in campus-level cultural competitions. Alegria is a very well-known and prestigious festival on the campus under which cultural competitions are held. PiCA has witnessed events like dancing competitions (Classical, Semi Classical, Freestyle), singing competitions, fashion shows, beatboxing and B-boying organized by the Alegria committee every year. Students of PiCA are part of the organizing, publicity, logistics and creativity committee during the Alegria Festival.
Stilt area
It is a semi-covered multi-purpose area of 220 sq. Mts on campus. It is used for various activities such as dance, drama practices, exhibitions, etc. This area is also used to conduct yoga sessions according to the ailments, meditation techniques, breathing techniques and Pranayama.
Open courtyards: The Quad and Atrium
These open-to-sky courtyard spaces act as multifunctional areas to conduct various cultural activities.
The Quad
It is a courtyard space of around 1058.64 sq. mt and the multilevel corridors around the courtyard act as balcony space to view the activities below.
The big courtyard uses frequently for inauguration ceremonies as well as large-scale events like the yearly all-institute festival 'Alegria, Fashion shows, Convocations, movie screenings, talent shows etc.
Atrium
The area of the Atrium is 403.16sq.mt. It is an Open-to-sky courtyard surrounded by corridors up to the 5th floor which acts as a viewing gallery and these corridors are often used by students to enjoy the performances on an open stage.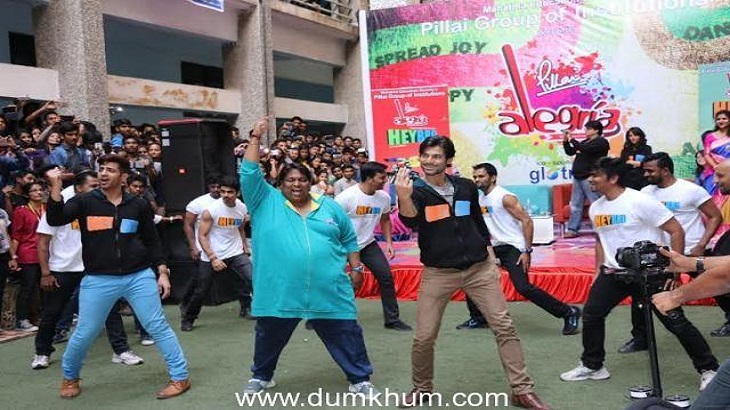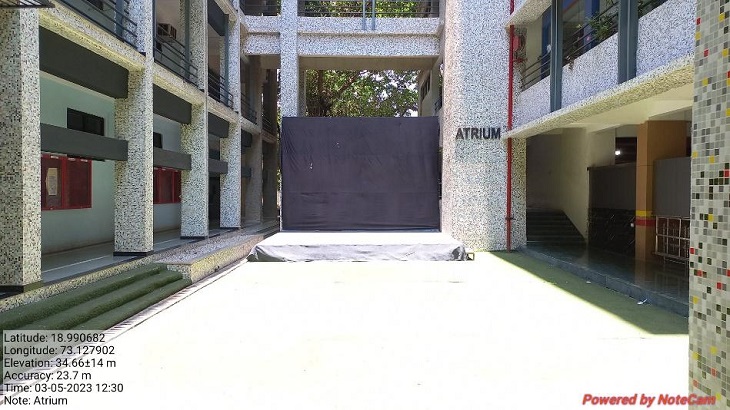 Auditorium
The auditorium has a capacity of 500 people with an area of 406.56 sq. mt and is utilized for formal as well as various cultural events like Marathi bhasha Diwas, Fashan show, dance and drama competitions, orientation workshops, students and faculty programme, etc. It is fully A.C. with attached male and female toilets. The area is well furbished with high-tech ITC facilities such as Wi-Fi and LAN connections for internet, projector with screen, fixed and portable mic, HD sound systems, acoustical panels and lighting.
The open ground near mango trees
This space is used for big-scale performances like concerts during Alegria. This is a grand all-Pillai group of an institute-level annual event where students from PiCA take part at various levels like management and curation of various cultural activities also students participate in the various cultural competitions organized at the time of Alegria.