Event
Site Visit & Case Study Visit Report for Sem III AD
Subject
Architectural Design
Session
2022 - 23
Year
2nd yr B. Arch
Course code
301
Credits
6
Number of attendees (students)
60
Semester
III
No of Studios per week
2
Faculty

Subject coordinator : Prof. Vrinda Padhye
Faculty team: Prof. Ashwini Bhosale, Prof. Gauri Damle, Prof. Tushara Kaliyath
No. of students attended the visits
66
No. of faculties attended the visits
5
A site analysis is a research activity that looks at the existing conditions of a site as well as possible future conditions. It considers physical qualities and characteristics, patterns and activities, relationships, context, givens, assumptions, opportunities and constraints within the immediate site and broader context and surroundings. While a case study is a process of researching into a project and documenting through writings, sketches, diagrams, and photos. It help students understand the various aspects of designing and constructing a building one must consider learning from other people's mistakes.
About the Design Studio: Weekend Retreat at Karjat.
The design studio for this semester is aimed at giving understanding of the subject through a thought-provoking set of activities. Considering this, the intention of this studio is to inculcate climate responsive and user friendly design approach in students. This kind of methodology helps them to handle the site context as well as the innovative architectural form hand in hand.
Outputs of the Site Study Visit
Aim
The aim of the Site Visit was to carry out an extensive field analysis [or context analysis] which will assess and establish parameters to implement the best design that responds to the physical and environmental features of the site.
Objectives
To understand the existing opportunities, or problems in a site, and make informed decisions on how to respond to the findings.
To allow for an authentic and accurate experience of the space.
To learn most of the specifics of construction and construction methods on-site.
Proposed Site: Mangaon, Vasare, Karjat
A city and sub-district in Raigad district in the state of Maharashtra, Karjat is a picturesque station located on a mountainous terrain. It spans over the regions of the majestic Sahayadri ranges, the Western Ghats as well as the Bhor Ghat. It lies on the banks of the Ulhas river, in the Konkan region. Around 67 km away from the metropolitan city of Mumbai, Karjat proves to be an ideal escape from the harrowed city life for people who enjoy adventure and outdoor activities. Hence Site chosen for site and case study was Karjat, situated between Mumbai and Pune.
A site visit was conducted on 8th August, 2022 to the Mangaon area of Karjat, to get a better perspective of it's surroundings, to ascertain site conditions, topography, obstacles, ground conditions, orientation and vegetation especially on neighboring sites that may impact on the proposed design.
Students were asked to carry out desktop study beforehand, as that will provide an important initial understanding of the site and generate far better results and more refined questions once there. To get the utmost data collected in forms of sketches, photographs and video documentation the class was divided into 7 groups, each focusing on the tasks allotted to them for documenting the site.
Various parameters were explained in brief to the students w.r.t to Site and case study visits. They are as follows:
Site Location – where the site is situated
Site Orientation – Site orientation refers to the direction that your home faces in relation to the sun's path, wind patterns, and the lot itself.
Site Dimensions – Evaluating the site dimensions setbacks and surrounding road widths, and pedestrian paths.
Site Accessibility: To calculate the distance from the near public transport stations to reach the site. Check if the site is connected to roads (from how many sides).
Street Network – to make the hierarchy of roads and streets to reach the site. Main Road, Secondary Road, Pedestrian path.
Traffic Density – To check the density of traffic on the roads which are connected to the site.
Site surrounding
Noise Pollution – To check if the site is free from any noise and pollution. If there is noise find out the source and note the intensity of its noise on the site. For example, noise sources can be nearby traffic on the road, Railway Station, or playground.
Natural features – actual features of the site such as trees, rocks, topography, rivers, ponds, drainage patterns.
Manmade features – existing buildings, walls, surrounding vernacular, setbacks, materials, landscaping, scale.
Climate – all climatic information such as rainfall, snowfall, wind directions, temperatures, sun path.
Local norms and restrictions: ownership, restrictions or covenants, council related information, future urban development plans.
Architectural Style – Any particular architectural style, materials or any vernacular architecture followed in that area.
Views to & from the site.
Students studied the process of researching and analyzing the social, historical, climatic, geographical, legal, and infrastructural characteristics of a site, and synthesized those analyses into visual information — usually in the form of site analysis diagrams.
Case Study:
Nandibaag Resort, Vaijanath, Maharashtra 410201
Outputs Of The Case Study Visit Aim :
The aim of the Case study can be helpful in clarifying what architects do and how projects come together. They can be particularly useful in the design process as a way of engaging a variety of people in a complex process, moving from problem identification to creating a solution.
Objectives:
To understand the needs of multiple user groups (all age groups as well as specially abled people), that take care of the comfort, convenience & aesthetic aspiration to create a more user friendly environment.
Understanding indoor and outdoor spaces created by built forms.
To understand the concept of Climate Responsive Architecture and the related Construction techniques.
To work with reference to the context, which would reflect a harmonious blend with the site & sensitivity towards its natural setting.
8th August 2022
On 8th August, 2022, the journey to Case study, Nandibaag Resort, Karjat started at 9:00 A.M from the Karjat station accommodating a total of 67 students along with 5 faculty members in two buses. Making our way from the lush green nature and other road conditions we reached the site at around 10 a.m.
About the Case study resort:
Spread across 4 acres of land with a huge natural pond, cottages, canal, and a lot more, Nandi Baag Resort is situated in the outskirts of Karjat, in a beautiful village, Vaijanth. Vaijanth is known for its 300 year old Shiv Mandir and so the resort name is dedicated to Shivji's Gatekeeper & Guardian. It is actually located off Tata Road, Bhivpuri which falls in the district of Raigarh. Accomodation has range of options viz. Group cottage, Premium Family Cottage, Tents & Dormitory that can occupy 150 guest.
To get the utmost data collected in forms of sketches, photographs and video documentation the class was divided into groups, each focusing on the tasks allotted to them for documenting the site.
The below parameters were considered for Case Study Visit:
Environment and micro-climate
User behavior and requirements
Utility and space enhancement
Form and Function
Horizontal and vertical circulation
Site Planning and Landscape detailing
Structural details such as Column and Beam Design, Steel and Composite structures
Building Services such as Fire Alarm system, HVAC, Water supply systems
Design detailing considering the Barrier-free environment
Socio-economic profile of user group
Parking details and standards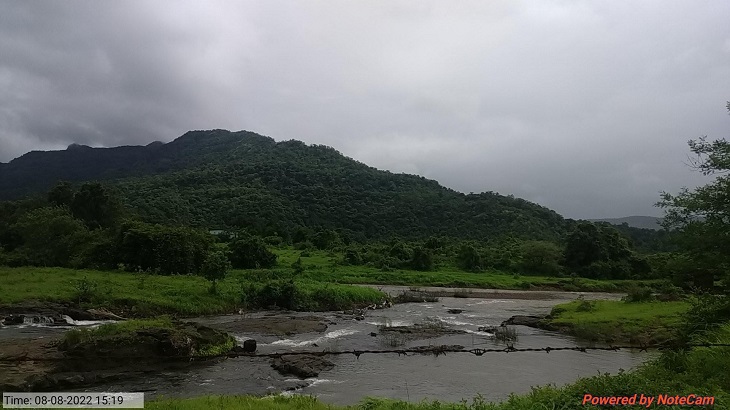 The resort is 360 degree panaromic mountain view & soothing beautiful sunset view
Students analyzed both the form and function of the building which included outer and interior appearances. They clicked different photos of it and even did sketches to understand the way in which it has been designed. They analyzed the reason behind the form of that particular building… and how it merged with the surrounding environment.
The outcome for both case study & site study will include a series of documents, photographs, drawings, diagrams, sketches, texts and other interpretations of the conditions on the site.