Bhopal Study Tour Exhibition
Venue
Bhopal
Session
2022 - 23
Year
1st year B.Arch.
Date
20th March, 2023
Semester
I
No. of Students
74
Faculty
Subject co-ordinator : Prof. Ashwini Bhosale Patil
Faculty team

Prof. Nitya Pratap


Prof. Sharvari Deshmukh


Prof. Kedar Shinde


Prof. Sayalee Kulkarni


Prof. Tanaya Deka


Prof. Jayesh Patil
Aim
To provide the opportunity to the students to showcase their creative ideas so that their creativity can be nurtured well.
Objectives
To provide the students with a large platform to showcase their talent and present it in public. The exhibition is a mass medium through which students can represent their learning and hidden talent among others.
To give exposure to the students, exposure to the new discoveries and inventions, exposure to working in the group.
To make students learn to work in the group and respect each other's views and also realize the value and power of working together in a group.
To develop communication skills, enhance presentation skills and thinking power of the students.
Introduction:
The purpose of education or for that matter of teaching is installing new beliefs, habits, information, and knowledge. The exhibition is a general term used for the organized collection of selected items and their display in public. Student of First Year B.Arch., from Pillai College of Architecture, New Panvel had visited Bhopal for their study tour on 19th January, 2023.
With regards to this, Students organized Bhopal Study Tour Exhibition on 20th March, 2023. The exhibition was held to provide a platform for students to display their knowledge, creativity, investigative skills and talent. It also boosts their confidence when they get appreciation for their creative talent.
The exhibition focused on the identification, display, and interpretation of collective things. The exhibition was open from 10:00 a.m. to 4:30 p.m. and the parents were also provided an opportunity to view it. The event provided a platform for creative explorations and innovations for the future Architects.
Social Media Student Incharge; Yutika Tawde from First year invited Principal Dr. Sudnya Mahimkar. All the teaching, non-teaching, admin staff and parents were invited to the event. Dr. Vasudevan Pillai and Dr. Priam Pillai also visited the exhibition.
Date: 20th March, 2023 Time: 10:00 a.m. onwards
Venue: Ground Floor Studio, PiCA, New Panvel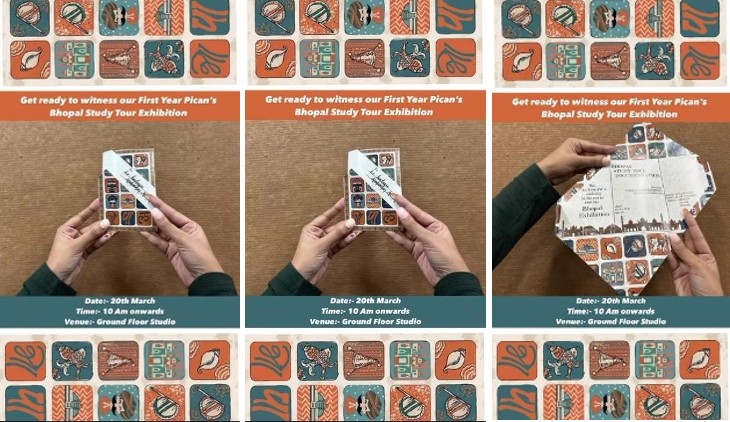 Creating an outstanding first impression is very important for any business; as they say, "your first impression is the lasting impression." The ribbon cutting ceremony is symbolic of a new beginning. It is an opportunity to show genuine appreciation for the students who have spent countless hours in helping to make a good show.
The Exhibition was inaugurated by Honorable Principal of PiCA, Prof. Dr. Sudnya Mahimkar.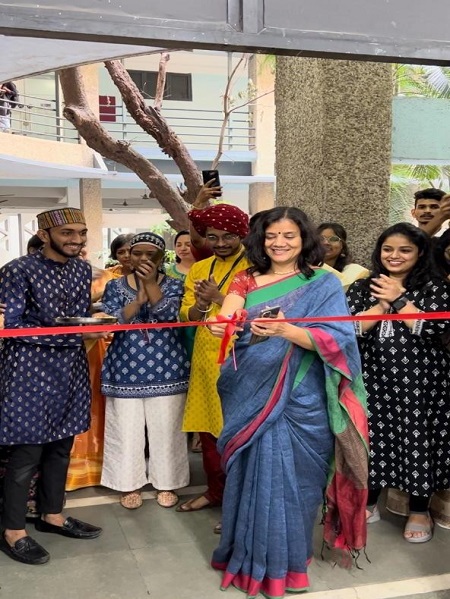 Susan Kotharkar, F.Y.B.Arch. student, host for the event welcomed everyone. The Program commenced by lighting of lamp with the auspicious hands of dignitaries and the invited heads of constituent units of Pillai College of Architecture. Dr. Sudnya Mahimkar, Prof. Shubhangi Bhide, Prof. Smita Dalvi, Prof. Sarojini Lahot, Prof. Sasmit Acharekar and Prof. Anand Sahastrabuddhe were invited for the same.
To make the program more engaging and interesting, some activities and performances were also prepared by the students. Dance has continued to gather momentum and flourish here at PiCA throughout the years. Once again, we welcomed a particularly talented and enthusiastic Dancers into the First Year and they jumped at the opportunity to perform and take part in our thriving co-curricular provision. Students named Jhanvi and Harini from First Year graced the stage in a dazzling performance. Thereafter, a short movie made by the students on Bhopal study tour was presented to the faculties and everyone.
Our promising students then presented their works which included sheets, models, paintings and suspended photo frames from ceiling. Students showcased their works and our Principal along-with faculties were personally present there to give them positive feedback and motivate them to do better.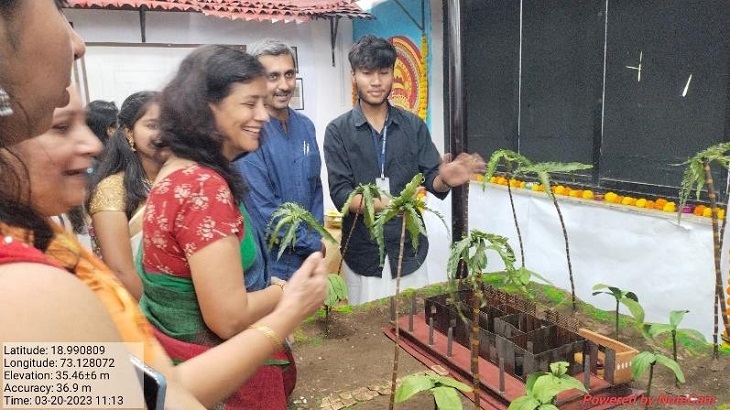 The works comprised of various villages that is Tribal village, Himalayan village, Coastal village, and Bhunga village which were documented by the students during their study tour and many creative ideas which left all the viewers full of praise for the talent on display.
In this exhibition, the teams shared their creative ideas through their innovative models, exhibits, projects and presentations supported by reports, display and photos. It was heartening to notice that the students had been inspired to conceptualize and initiate their academic journey through self-motivation and with a concern for sustainability and inclusivity.
Our Principal, and other faculties expressed their opinions about the exhibition and gave their feedback regarding the same.
Dr. K. M. Vasudevan Pillai, the founder of the Pillai Group of Institutions and the Chairman and CEO of the Mahatma Education Society and Dr. Priam Pillai, who is the Chief Operating Officer of Pillai Group of Institutions also visited the Exhibition and pointed out that learning is a continuous process by the hard work and dedication by teachers in shaping the graduands as a responsible citizen of the country.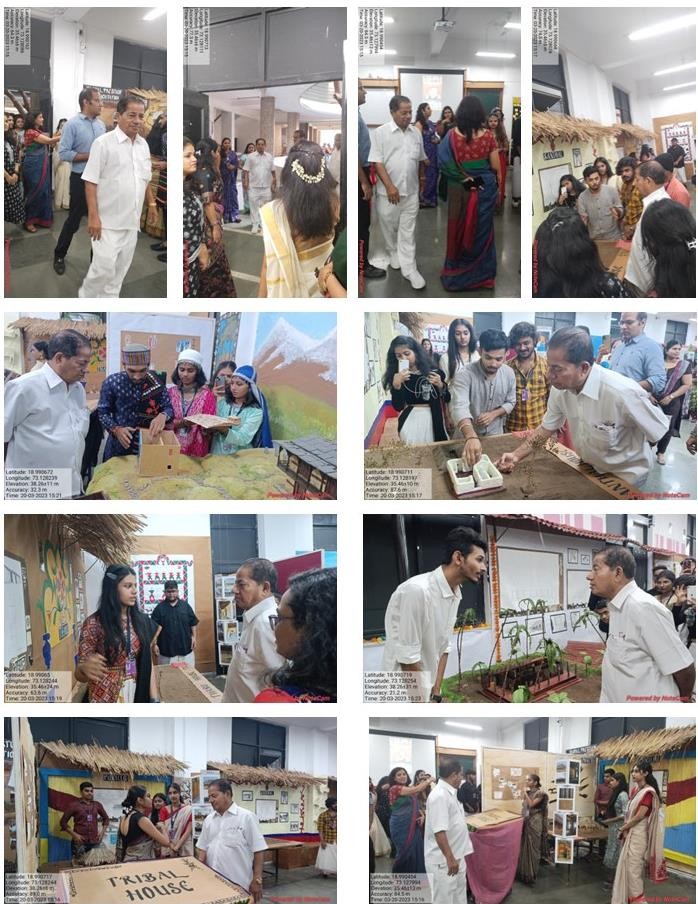 Parents and visitors were invited to motivate our student's venture and they gave positive feedback on the same. The exhibition was a fun and enriching one which motivated the pupils to give their best.
All in all, the Bhopal Study Tour Exhibition (A.Y. 2022-2023) was a grand success underlining the importance of co-curricular activities in a college.
I yr Study Tour to Bhopal
Venue
Bhopal
Session
2022 - 23
Year
1st Yr B.Arch.
Date
19th January, 2023 to 24th January, 2023
Semester
I
No. of Students
69
Faculty
Subject coordinator : Prof. Ashwini Bhosale Patil
Faculty team

Prof. Nitya Prathap


Prof. Sayalee Kulkarni


Prof. Sharvari Deshmukh



Aim
The aim of the study tour was to develop the analytical skills and create an interactive learning environment for the students of first year.
Apart from building academic capability, the study tour also aimed at building life skills such as team work, communication, problem solving skills and decision making that are only obtained through life experiences.
Objectives
To bring in an Architectural perspective in the students while observing a place
To develop the vision and keenness in the students to observe the structures
To help students understand the Architecture details in the structures.
To enhance sensitivity towards Indian Architecture by documentation through other artistic means like drafting drawings, photography, sketching and painting.
Lastly to appreciate the beauty a structure offers through its overall planning and construction.
Introduction
Study tours are a vital part of education in Architecture, as students learn and grasp what they see. Often study tours include places with rich culture, Architecture, and history so that they have a lot to offer for visual learning. The first year students of Architecture went on a study trip to Bhopal, Madhya Pradesh, India as part of their curriculum.
Bhopal, the capital city of Madhya Pradesh is much more than a gas leak of 1984. It is known for its lakes and also is home to many Architectural marvels. Though Bhopal is a city with wide roads and green spaces, a flavor of urbanity and modernism stands stiff against its planar terrain to complement the traditional architecture.
The Nawabs of Bhopal built several structures including the Taj-ul-Masjid and Taj Mahal Palace in Indo Islamic and European styles. Bharat Bhavan is the main cultural Centre of the city and hosts many theatre and film festivals every year. The Bharat Bhavan as well as the MP Legislative assembly were designed by Charles Correa. Indira Gandhi Rashtriya Manav Sangrahalay is an anthropology museum located in Bhopal, to present an integrated story of the evolution of man and culture with special reference to India.
The itinerary of the study tour was designed to appreciate the structures and their makers in Bhopal.
Duration: 19th January, 2023 to 24th January, 2023
No. of Students: 69
No. of Faculties: 04
Places of Visit:
Indira Gandhi Rashtriya Manav Sangrahalay.
Bharat Bhavan
Taj Ul Masjid
Tribal Museum
Sanchi Stupa
Bhimbetka
Day 1 (19th January, 2023) & Day 2 (20th January, 2023) – Train Journey from C.S.T. to Bhopal.
Departure for Bhopal by Punjab Mail (12137). at 19.35 hrs. Mumbai CSTM. The Journey was overnight train journey. The 16 hrs long journey started with lot of excitement and enthusiasm. The pleasant winter climate of Central India was felt during the travel.
Day 2 (20th January, 2023) – Visit to Manav Sangrahlay, Bhopal
Site Description: (Indira Gandhi Rashtriya Manav Sangrahalay): Any exploration of India's greatest museum is incomplete without a visit to the Indira Gandhi Rashtriya Manav Sangrahalaya, Bhopal. The museum lies in a prehistoric landscape with evidence of prehistoric human settlement in its premises at Bhopal- the capital city of Madhya Pradesh. Covering an area of about 200 acres of undulating terrain in the Shamla Hills, it is one of the largest and leading anthropological museums in India. Aesthetically curated open-air exhibitions and components with the most enduring indoor exhibitions, it promises to live up to the expectations of museum visitors. This museum depicts the story of mankind in time and space. It offers an opportunity to explore the most subtle but artistic sensibilities of the rich Indian culture and heritage through its appealing exhibitions. It has 8 open-air exhibitions and 12 indoor galleries. Impressive periodical and travelling exhibitions of the museum on various topics are highly receptive and friendly to the visitors. Moreover, museum activities of this museum are designed to make information educative and entertaining. A visitor-friendly environment with an improvised form of interactive displays offers a new taste to museum visits. Education programmes, workshops, seminars, symposia, group discussions. conferences, cultural programmes, regional and cultural festivals, lectures, artists camps, etc. are some regular activities of the museum.
The following open-air exhibitions partially developed and opened for the public: Tribal Habitat. Coastal Village, Desert Village, Himalayan Village, Mythological Trail, Traditional Technology park.
Students were identified into different groups and directed to study and sketch different villages situated at the site.
Day 2 (21st January, 2023) – Architectural Measurements Documentation of Manav Sangrahlay, Bhopal.
For measured drawings of Manav sangrahlay, students were to document historically and architecturally significant buildings in the form of as-built drawings. They were divided into 8 groups (of 8-9 students) who were to study and document 8 villages located in IGRMS. Those are as follows:
Himalayan Village (2 structures)
Coastal Village
Desert Village
Tribal Habitat (3 structures)
Measured drawings is the term recognized in the industry to describe the drawings prepared from on-site measurements of an existing building or space. It can be for a building to which additions or alterations will be made; or for spaces which are intended for lease and from which drawings the areas for lease purposes will be calculated.
The study aimed to develop an understanding within the students of the principles of building construction and the method of recording it in three documentation methods; measured drawings, written/sketches documentation and photographic documentation.
A Special session was also conducted by Mr. Pandey Sir, Director of IGRMS, who gave introduction and information about the site and its overall expansion. His staff-members also explained in detail about the construction techniques of different structures located in IGRMS
Students were divided in groups and were asked to document the structures. Their main goal was to take proper measurements on site of the structures along-with sketches and photos for the same.
For these two days, towards the end of the day, we had a discussion in the hotel lobby, on each day's work and marked the groups accordingly.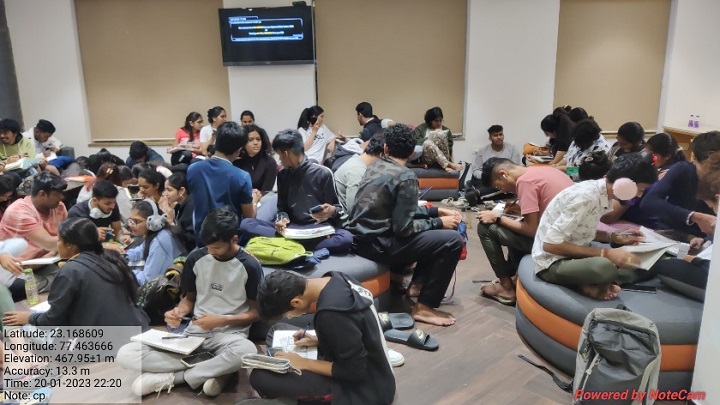 Day 3 (22nd January, 2023) – Visit to Taj-Ul-Masjid, Market visit, Tribal Museum, Bharat Bhavan, Bhopal
Our Day 3 journey started at 9:00 a.m. where we first visited to Taj-Ul-Masjid, The Taj-ul-,lit. 'Crown of Mosques') is a mosque situated in Bhopal, Madhya Pradesh, India. It is the largest mosque in India and one of the largest mosques in the world. The Taj-ul-Masajid largely takes inspiration from Mughal architecture.The mosque has a pink facade topped by two 18-storey high octagonal minarets with marble domes, an impressive main hallway with attractive pillars, and marble flooring resembling the likes of Jama Masjid in Delhi and the Badshahi Mosque of Lahore.
Students sketched various details at this place. They also did photography of various elements of the mosque
We then left for Bharat Bhavan post lunch at around 2:30 p.m. Bharat Bhavan is an autonomous multi-arts complex and museum in Bhopal, India, established and funded by the Government of Madhya Pradesh. The architect of the Bharat Bhavan is Charles Correa. Opened in 1982, facing the Upper Lake, Bhopal, it houses multiple art galleries, a graphic printing workshop, a ceramics workshop, an open-air amphitheater, a studio theatre, an auditorium, a museum of tribal & folk art and libraries of Indian poetry, classical music & folk music. Students explored the museum and various spaces in and out of it.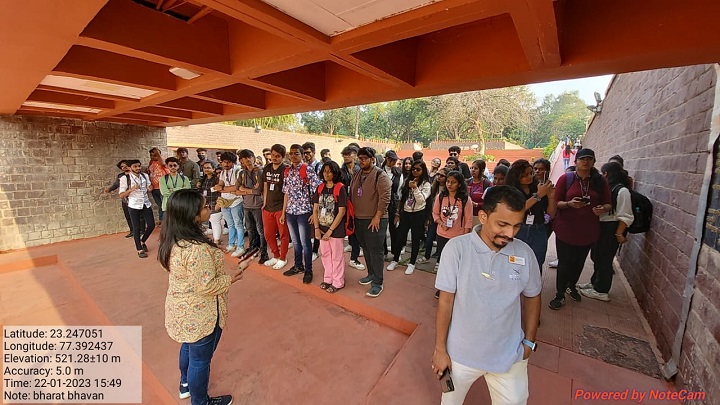 We then visited to the Madhya Pradesh Tribal Museum in Bhopal that took student on an immersive journey through the culture of the local tribes of the state. With large colourful displays, the museum shows the art, traditions, daily life, and customs of a large number of indigenous groups. The Tribal Life Gallery has full-sized models of the tribes' houses and dwellings, large enough for visitors to go inside. In another gallery, stories of worship and sacrifice are portrayed through impressive art installations. Artefacts from daily life are presented alongside cultural symbols that contain deep meanings passed through the generations.
Day 4 (23rd January, 2023) – Visit to Sanchi Stupa, Bhimbetka caves
On Last day of the tour, Students of PiCA visited Sanchi Stupa to expose them to History of Architecture related to Buddha, Ashoka and Jain Buddhism etc. Sanchi Stupa is one of the oldest stone structures in India built during the Mauryan period. The sculptures, monuments and lush gardens of Sanchi Stupa have been designated as the World Heritage site by UNESCO. Hence students of both semesters were given detail knowledge of construction techniques and HISTORY OF ARCHITECTURE
Post lunch, we then proceeded to Bhimbetka caves, which is a Historical place in Amchha Khurd, Madhya Pradesh. The Bhimbetka rock shelters are an archaeological site in central India that spans the Paleolithic and Mesolithic periods, as well as the historic period. It exhibits the earliest traces of human life in India and evidence of Stone Age starting at the site in Acheulian times. Students did sketches and photography here.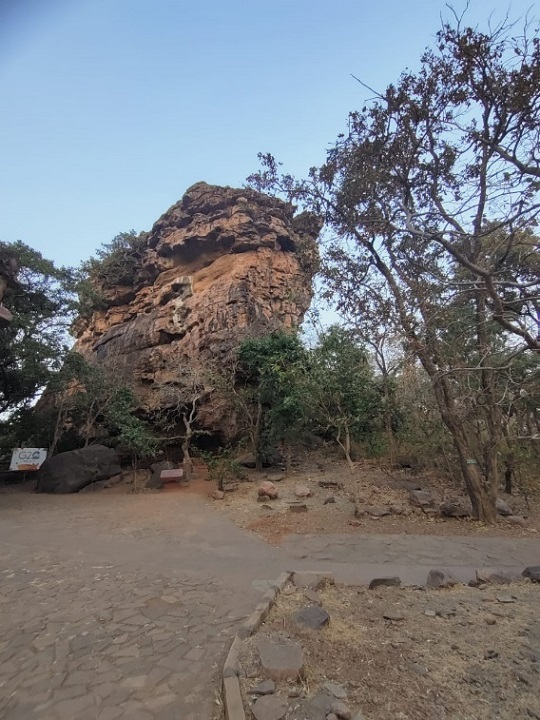 We the left for Rani Kamlapati Station from where late night departure to Bhopal Rly. Station to board the train for home town by 15065 GKP – Panvel Exp at 00:40 hrs Midnight. Overnight train journey. Our Study tour concluded at Panvel Railway station at 4:00 p.m. on 23rd January, 2023 Tuesday.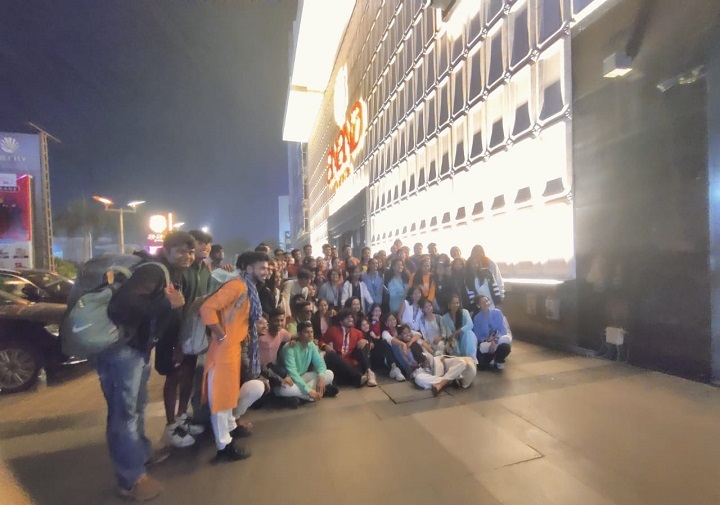 I yr Ajanta Tour Documentation Exhibition
Subject
College project
Session
2019-20
Year
1st yr B.Arch.
Semester
II
Faculty
Subject coordinator: Prof. Mahesh Naik
Faculty Team: Prof. Mahesh Naik, Prof. Sasmit Acharekar, Prof. Danish Khatri,
Prof. Madhurima Das, Prof. Reshma Sathe
Based on the on-site documentation work in the tour to Ajanta in the month of December 2019, the I yr students prepared the drawings. It was a group work where Punyashlok Ahilyadevi Holkar Talab (stepwell) was documented by students.
The exhibition of the whole documentation work drawings was inaugurated at the hands of Prin. Dr. Sudnya Mahimkar on 18th February, 2020 which was open to all for viewing till 20th February, 2020.
Study Tour to Ajanta Caves, Aurangabad
Subject
Study Tour
Visit to Aurangabad
Commemorating the lost treasure: Ajanta Caves
Session
2019-20
Year
1st
Date
18th to 24th December, 2019
Semester
Sem 1
Faculty
Subject Coordinator: Associate Professor Sasmit Acharekar
Faculty Team: Accompanying in Study Tour
Mahesh Naik, Danish Kharti, Madhurima Das, Reshma Sathe, Sasmit Acharekar
Location
Aurangabad
Objectives of the Visit: Commemorating the lost treasure: Ajanta Caves
The first Buddhist cave monuments at Ajanta date from the 2nd and 1st centuries B.C. During the Gupta period (5th and 6th centuries A.D.), many more richly decorated caves were added to the original group. The paintings and sculptures of Ajanta considered masterpieces of Buddhist religious art, have had a considerable artistic influence.
The Ajanta Caves were a sanctuary for Buddhist monks that was forgotten, along with its stunning riches, for nearly 1,500 years. Until in the year 1819, John Smith, a young British cavalry officer, who was on a tiger hunt, accidentally spotted the mouth of one of the caves, believing that it could only have been man-made.
To celebrate 200 years of Ajanta caves re-discovery marks the year 2019-20 extremely important in the history of art and conservation. Unknown for more than 1,000 years except to wild animals, insects, flood waters, prodigious foliage and perhaps the local Bhil people, this magnificent work of art, architecture and contemplation was abandoned by those who created it as long ago as AD 500.
To remember an enduring saga of cave paintings and sculptures, we decided to conduct academic study tour from 18th to 24th December, 2019 to Aurangabad and its historic precincts for the 1st year students of 2019-20 batch and pay tribute to this legacy.
The places which were covered under the 5-day visit were, Aurangabad caves (ASI site), UNESCO World Heritage Sites: Ajanta Caves and Ellora Caves, Punyashlok Ahilyadevi Holkar Talab (stepwell) and Daulatabad fort.
Tour Intentions: The Study Works
The Intentions of the study tour were to study, document and sketch the architectural elements which went into building the ancient caves, forts, temples and paintings.
The students were introduced to Buddhist-Jain-Hindu style temple architecture, which covered different elements like Shikharas, Mandapas, Garbha Griha, Sabha Mandapa and Pradakshina.
Students were sensitized towards the construction techniques which went into building the Rock-cut caves; usually carved out of a single piece of rock. Also, the caves merging smoothly into the unbuilt environment making it a beautiful amalgamation was observed.
Various paintings and sculptures were studied to understand colour combination, symmetry, scale and proportion. Lastly, the takeaway for the students was getting to know the rich history which went behind building one of the largest and unconquerable forts of that time.
One of the important agenda of the visit was to learn documentation, how to do measure drawings on site and lastly, to understand different methods of surveying and tools involved.
Documentation, team building and coordination was the outcome which was achieved.
The Design Studio: Architectural Design Sem-2
Further to remember an enduring saga of cave paintings and sculptures at Ajanta caves, the student studies the entire setting and context of the cave's location. This was followed by selection of the site for architectural design studio – Semester - 2 at Ajanta itself. The famous point (Site) which is possibly the location from where John Smith, a young British cavalry officer first spotted the hidden arena of Ajanta caves, was chosen as site of the design Studio. The site located right at the topmost viewpoint facing the Ajanta caves, overlooking the Waghora (tiger) river.
The design studio at Sem-2, inquire in to the personality and personal life of an renowned Artist, of student's choice. Understand the personal habits, hobbies, nature and daily activities of the Artist and future design a retreat for the artist at the above selected site.