| | |
| --- | --- |
| Event | SENATE Event |
| Session | 2022-23 |
| Year | II, III, IV |
| Date | 20th September, 2022 |
| Time | 3:30 p.m. - 5:00 p.m. |
| Venue | Ground Floor Studio |
| SENATE in charge | Prof. Aditya Gujarkar and Prof. Ashwini Bhosale |
| SENATE coordinators | Pallavi Taori, Jill Mehta |
The student council of Pillai College of Architecture had conducted a special studio for the students, where dedicated students from the 5th year's batch volunteered to give a brief presentation on their Architectural Design portfolios and hence gave way to a creative and informative learning session for their juniors. This studio also aimed at setting an example for the students in the audience on how to informatively and clearly represent their designs and ideas to the audience while making a presentation and this was rightly presented by Miss Swati Singh. The volunteers from the 5th year that participated in this event are Mr. Alvin Paul, Miss. Rutuja Devadkar and Miss. Subiksha Rajagopalan, who each took turns to carry out the studio through their part in the presentation.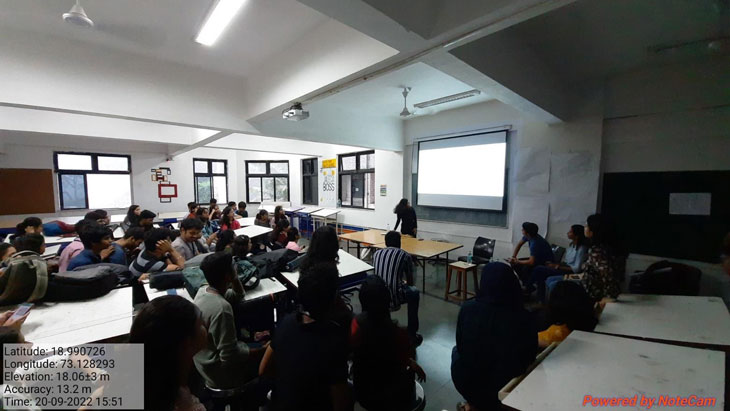 The studio began approximately at 3:00 p.m. with the presentation of Miss Swati Singh explaining the various ways and skills of making a good portfolio. This was then followed by Mr. Alvin Paul and his team mates' project on a collaborative ecosystem within the studio culture, creating a platform for various socio-cultural activities for local communities. Finally, the studio came to an end with the presentation. It was a very insightful presentation with respect to all aspects. The entire event came to an end at 4:00 p.m. To make the event further more interesting, the student council had organized a competition which was more like a response to the projects presented by the seniors. The juniors submitted their ideas in forms of sketches and had a small discussion over the same which gave the event a closure at 5:00 p.m. It was very interactive.
The event was attended by 50 students from the vertical years.