About 100 students enrolled for being volunteers for the upcoming Audits with Aclude.
Mr. Kangaraj, explained the problems faced by differently abled people in navigating city streets and Public transport. The bare minimum requirements for accessible streets for all is to have easy ramps for navigating level differences, in all the Public buildings as well as footpaths, train stations, bus Stops etc.
Danesh, is an Engineer by training and a motivational speaker by profession. He has spoken on various platforms like TED talk and is a recipient of Rajendra Prasad Leadership Award among many.
The focus of the talk was on making students a ware of the accessibility issues in Public places.
Mr. Kangaraj explained about the Aclude Foundation. Aclude Foundation, a Navi Mumbai based – Not For Profit organization – an initiative that works with persons with disabilities in areas of build environment accessibility, employment and inclusive training. Aclude is taking these baby steps to help those who are facing challenges at multiple levels. Foundation aims to bring at least a little improvement in the otherwise secluded lives of persons with disabilities.
The purpose of the session is there is plenty of obvious moral reasons that accessibility matters but ultimately, people with disabilities should have the same rights as the wider population — and that includes their ability to engage with, learn from and communicate. When we take it upon ourselves to design for accessibility, we create more opportunities for disabled people to utilize accessible build environment and, at the same time, supporting diversity and inclusion.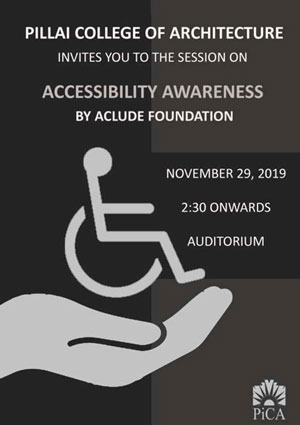 What is Accessibility?
The basic meaning of the word accessibility is 'the ability to access'.
Students understood the fact that all structures are made not only for the convenience of the healthy but also for the disabled.
Eg – ramps which enable easy access to different level and can be accessed by the ones on wheelchairs too.
What is Access Audit?
In places where a building is made without consideration of differently abled people, a team of 6 people which include the architect and other members with the most common disabilities, like the blind, the deaf, one's on wheelchairs, etc. They audit the building and see to it that everything is perfectly aligned / placed in a manner which is suitable for everyone.
Should anyone have any opinion on a certain area of the building, the architect is supposed to change or modify the built space so as to remove the constraint.
Pot holes, abrupt elevated drains, etc. are common problems faced by the people.
What's needed from us?
Support by thinking of the differently abled while designing new structures.
Participation in access audits.
Gathering funds and volunteering activities.
The event was coordinated by Ar. Prof. Reshma Sathe, with the help of Anubhuti, the social service wing of PICA. The event was attended by about 200 students and faculty of PICA.