| | |
| --- | --- |
| Subject | Anubhuti Event - Rakhi with Khaki |
| Event | SENATE Event |
| Session | 2022 - 23 |
| Year | II, III, IV, V |
| Date | 10th August, 2022 |
| Time | 11:15 a.m. – 12:45 p.m. |
| Semester | III,V,VII,IX |
| Anubhuti and SENATE in charge | Prof. Nitya Pratap , Prof. Aditya Gujarkar |
| Anubhuti and SENATE coordinators | Isha Sheikh, Kirti Bharambe , Anaswara Suthan , Mihika Bhagat |
On the auspicious occasion of Raksha Bandhan, Pillai college of architecture organized an event of 'Rakhi with Khakhi'. Raksha Bandhan symbolizes protection, and who better to celebrate this bond than with inspectors of our police force who swear our protection as their duty? The ground floor studio was embellished to greet our guests, SI Subhash locates, API Vitthal Pisal , API Sameer Chaskar, Police Inspector Naik Mhatre, Head Constable Sudarshan Sarang, and Head Constable Kuvar.
The audience area was a testimony to the liveliness of the crowd as students from 2nd to 5th year batches attended the event and showcased their respect and applauses. The event commenced at 11:15 a.m. with a welcome speech by Anubhuti head Miss Isha Sheikh. The occasion advanced with a welcome speech by API Sameer Chaskar where he mentions the significance of Raksha Bandhan followed by SI Subhash Kokate who shed light on the functions and importance of the police department.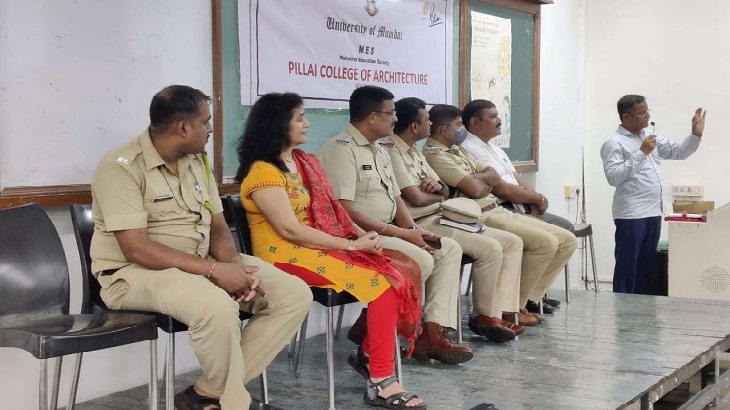 Thereafter, students of PICA volunteered to tie rakhi on the wrists of our guests from the police department indicating the pure bond we share with them.
After the rakhi ceremony, Head Constable Sudarshan Sarang gave us insight into the cyber world, the crime that it sees, and ways to keep ourselves cyber-safe.
The guests were felicitated by our Principal, Dr. Sudnya Mahimkar, followed by a vote of thanks by Anubhuti co-head Miss Kirti that officially concluded the event.
The event was attended by almost 120 students from all the years and faculty members along with the Principal.
Social Media Link: https://www.instagram.com/p/ChCyKsyDuWQ/?igshid=MDJmNzVkMjY=