| | |
| --- | --- |
| Subject | Cultural Event |
| Session | 2021- 22 |
| Year | I, II, III & V |
| Date | 20th December 2021 |
| Time | 10:00 a.m. |
| Venue | Auditorium PiCA |
| Faculty Co-Ordinator | PiCA Senate (Student Council) |
Mahatma Education Society's Pillai's College of Architecture, New Panvel every year Conduct induction day wherein the newcomers (the first-year students) are welcomed to the college. This year also the event was held on 20th December, 2021 in the auditorium of the college. This event is held to make the students aware about the curriculum and the 5-year program along with explaining to them about the different activities and amenities present in the college. The event is then followed by a small exhibition by the senior batch students.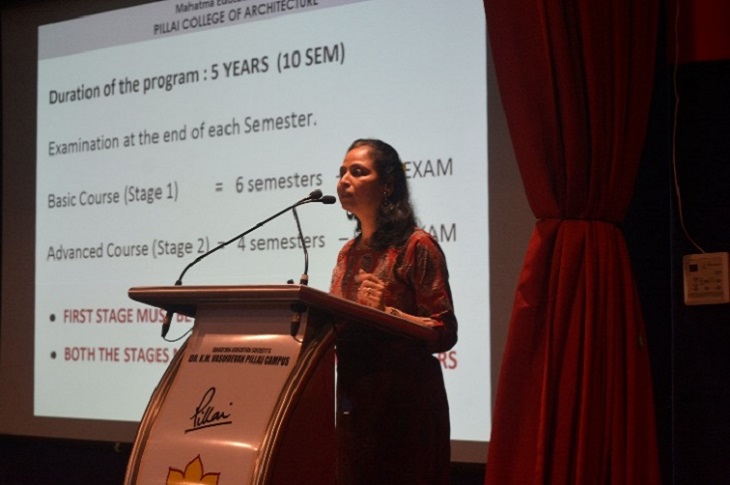 The event started with a welcome speech by the student and faculty followed by the lighting of the lamp by the principal, the chief guests and senior faculties of the college. The event was then continued by a welcome speech by the principal ma'am Dr. Sudnya Mahimkar along with explaining the students and the parents about the architecture course and the MES Institute. Then the program was continued by introducing the students to the learning culture of the BArch course by one of the faculty member Prof. Kavita Pradhan which was then followed by explaining the students about the examination pattern by Prof. Rupali Vaidya. The event was then followed by introducing the students to the student council and its different activities by Prof. Aditya Gujarkar along with the student council heads. The event then came to an end with a question answer round and a thank you note.
The students and the parents were then sent to the ground floor studio for refreshments and exhibition. The students were then sent to their classes for the induction program. There was also an arrangement of a college tour for the parents who ever wanted to have a look. They were assisted by the volunteers for a smooth program.
The event was attended by the first-year students along with one parent each followed by all the faculties and the student council along with the volunteers.