World Wetland Day and a Public Exhibition on Talavs of Panvel
Session
2021-22
Year
I, III, IV, V
Date
25th February, 2022
Semester
II, V, VII, IX
Faculty
Anubhuti in-charge: Nitya Pratap
Anubhuti coordinators: V S V S Vindhyavalli Devi, Roshani Tiwari
Inclusive Social Awareness:
Talavs, lakes and other water resources contribute to the major part of wetland ecosystems of the Konkan region. Being the traditional rainwater harvesting systems, the exploitation and depletion have led to many barren dried-out planes. Water as a resource contributes to climate mitigation, biodiversity, and much more contribution to other environmental aspects.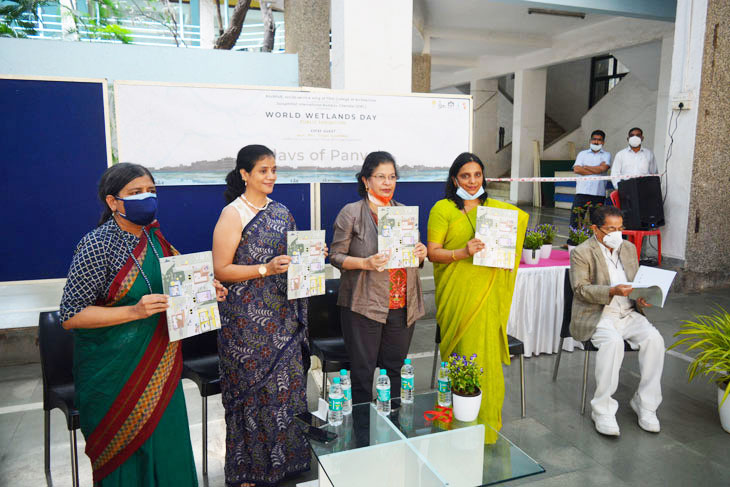 Consideration of water as a vital entity for mankind is exploited which has to lead to depletion of resources. Awareness and necessary guidance in order to preserve safeguard and restore our natural resources lie in our hands.
This calls upon awareness and strategic use of resources with the right mind to preserve and restoration of the talavs.
Anubhooti- MES Pillai College of Architecture's social service wing along with the SIBC came together with the PMC – Panvel Municipal Corporation came together to celebrate the occasion of World Wetland Day on 25th January 2022, by holding a public exhibition to highlight the importance of talav sites of Panvel city and to look into the issues and work on them. The work firstly started with developing and looking back at the talavs of Panvel – which holds importance in the historical timeline of Panvel.
How was the day celebrated? –
The event was graciously attended by the additional commissioner of Panvel municipal corporation – Hon. Mrs. Trupti Sandbhor, Dr. K M Vasudevan Pillai (Chairman, MES), Dr. Daphne Pillai (Secretary, MES) and Dr. Sudnya Mahimkar (Principal, PiCA). The event was inaugurated with the lighting of the lamp by the chief guest and dignitaries and was followed by a small introduction of the exhibition and the work it holds.
Ms. Trupti Sandbhor expressed her pleasure towards working with an architecture college under the MOU signed between PICA and Panvel Municipal Corporation. Prof. (Dr.) Smita Dalvi explained the significance of World Wetlands Day to all.
As a part of the research project on Talavs of Panvel, third year architecture design studio was aligned to study and propose development of Krushnale Lake in Panvel, inclusive of the timeline of Panvel, the different talavs it holds, later concentrating on krushnale talav and respective documentation. The sheets presented, mainly included the street's section plan drawings along with sketches and highlighting the views of the activities happening around. Further a site was selected by students near the talav to develop into a cultural center. Further some students also individually presented their individual proposals followed by other competition works.
Later the print copies of VOX 2021, annual magazine of PiCA were introduced to public.
Attendance:
The event was successfully attended by the chief guests, dignitaries from MES, PICA faculty members, staff and the students of Pillai's College of Architecture.