| | |
| --- | --- |
| Date | 21st September, 2022 |
| Time | 10.00 a.m. to 4.00 p.m. |
| Venue | Ground Floor Architecture Studio |
The Ministry of Health and Family Welfare (MoHFW), Government of India had launched the Anemia Mukta Bharat Programme in 2018 with the aim to reduce anemia in the vulnerable groups such as women, children and adolescents. The current lifestyle and habits have hampered the overall immunity levels of all people and made them more susceptible to diseases. Considering the fact that women been the drivers of the family, it becomes utmost necessary that she stays healthy and is fit to carry out her responsibilities.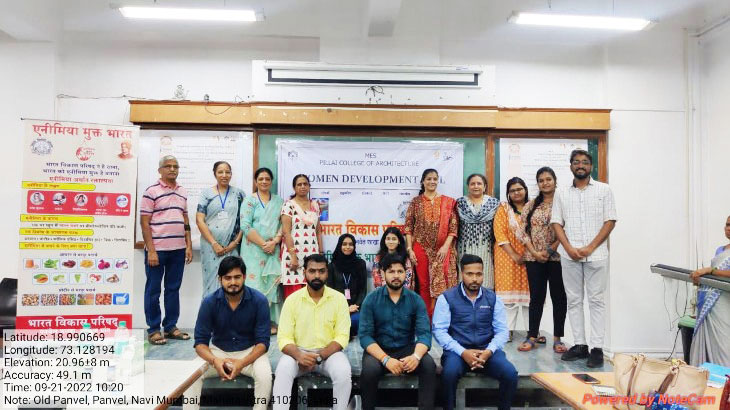 Organizing Team of the Testing camp along with the doctor and lab technicians
MoU of Pillai College of Architecture with Bharat Vikas Parishad, Panvel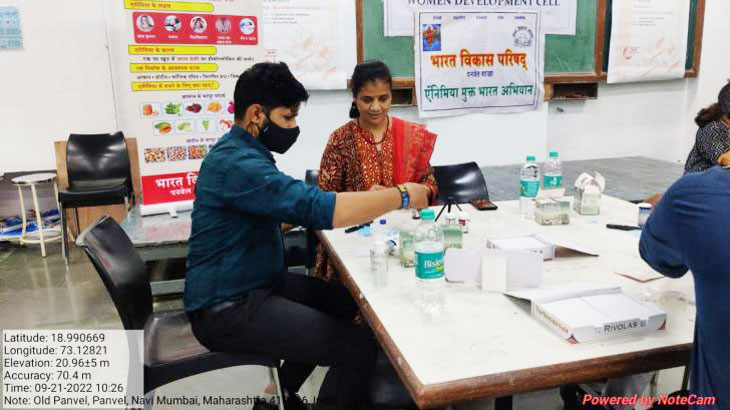 Principal of Pillai College of Architecture taking lead by doing blood testing
Checking of Bone-density
House keeping staff actively participating in the testing camp
Blood testing of non-teaching female staff and students
PICA signed a MoU with Bharat Vikas Parishad, Panvel for a period of 3 years with an intention to serve various sections of the society.
Under the above MoU activities, MES Pillai College of Architecture, New Panvel in collaboration with Bharat Vikas Parishad and SIBC along with Women Development Cell, Anubhuti and PiCA Senate conducted a testing camp for measuring the random blood sugar, hemoglobin and bone density of female architecture students and staff of all departments in the campus.
The testing camp was conducted on 21st September, 2022 from 10:00 a.m. to 4:00 p.m. and an overwhelming response of 206 participants was received for the camp. The participants consisted of 71 students, 30 teaching staff, 39 non-teaching staff and 66 housekeeping staff. Dr. Kirti Samudra (M.D. Physician and Diabetologist) along with her lab technicians was available for the entire time during the testing camp. She prescribed medicines to all females depending upon the deficiencies which their test result showed. Three extreme cases (one from teaching staff and two from house-keeping staff) wherein the hemoglobin values were at the lowest end (around 6) were observed. They were made aware of the negative consequences of it and were given tablets for a month which would help them improve their hemoglobin levels. Nine severe cases (five from non-teaching staff and four from house-keeping staff) were observed wherein their random blood sugar levels were above 250. These cases were counseled by the doctor and diet guidance was provided to them. Bone density of most female staff (above 35 years) indicated Osteopenia and they were advised to increase their calcium intake and modify their food habits. Overall, the camp was a successful initiative in creating awareness among females regarding their health parameters.