Event
Anubhuti Event and Cultural Event
Session
2022 - 23
Year
I, III, IV, V
Date
21st June, 2022
Semester
II, V, VII, IX
Faculty
Incharge : Nitya Pratap, Aditya Gujarkar
Coordinators : V S V S Vindhyavalli Devi , Roshani Tiwari, Devika Kurup

Inclusive Social Awareness
Yoga is celebrated joyously all over the world as an activity which improves both the physical and mental health of oneself.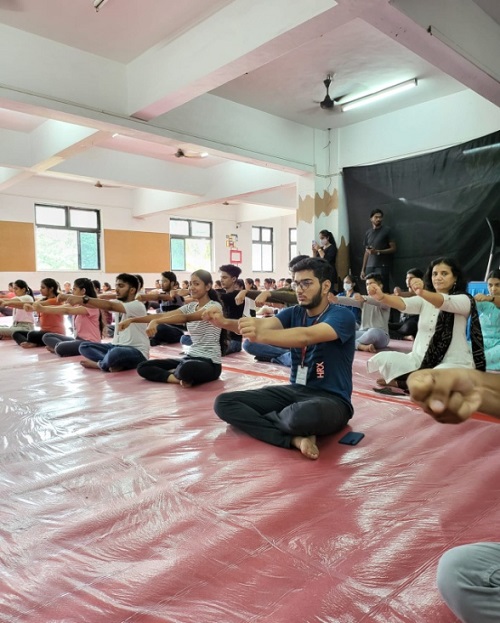 How was the Event Celebrated
Pillai College of Architecture every year celebrates yoga day on 21st June. This year also the yoga day was celebrated on 21st June, 2022 from 10.30 a.m. to 12.00 p.m. in the stilt area of the college premises. This year the college invited a chief guest Mr. PARAG JAVADEKAR founder of Align Yoga. The program started with an introduction to the chief guest by the council members followed by an informative speech by the chief guest on the importance of yoga in daily life. The event then proceeded with the chief guest teaching yoga which included breathing exercises and asanas like Chakraasan, vrikshaasana, tadasana, and many more asanas. The event ended with Shavasana wherein all the students and faculty members had a relaxing time.
Attendance
The event was attended by students from all the years and faculty members along with the Principal and office staff.